Image: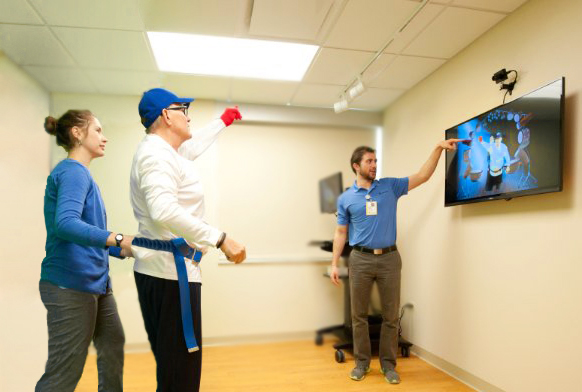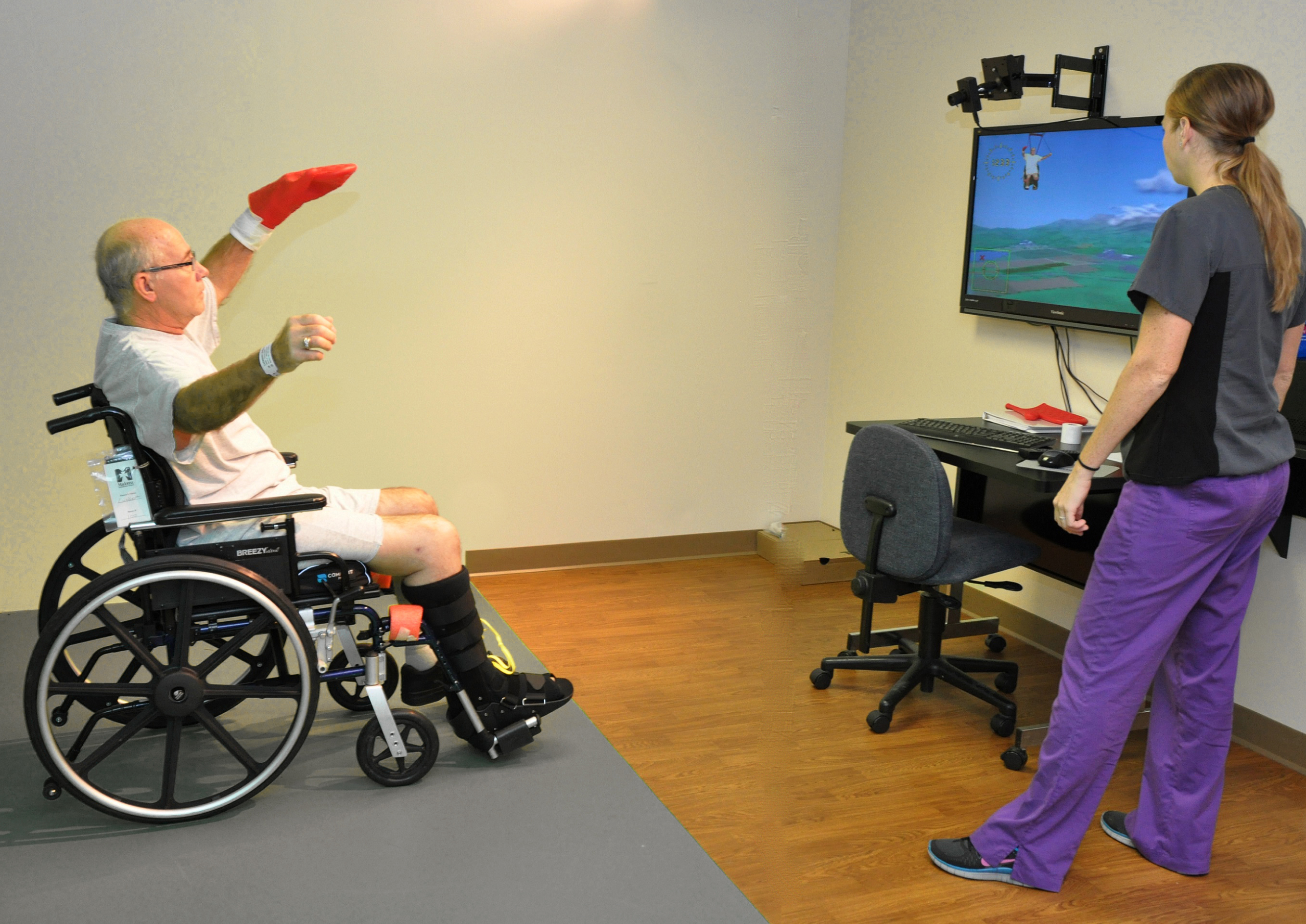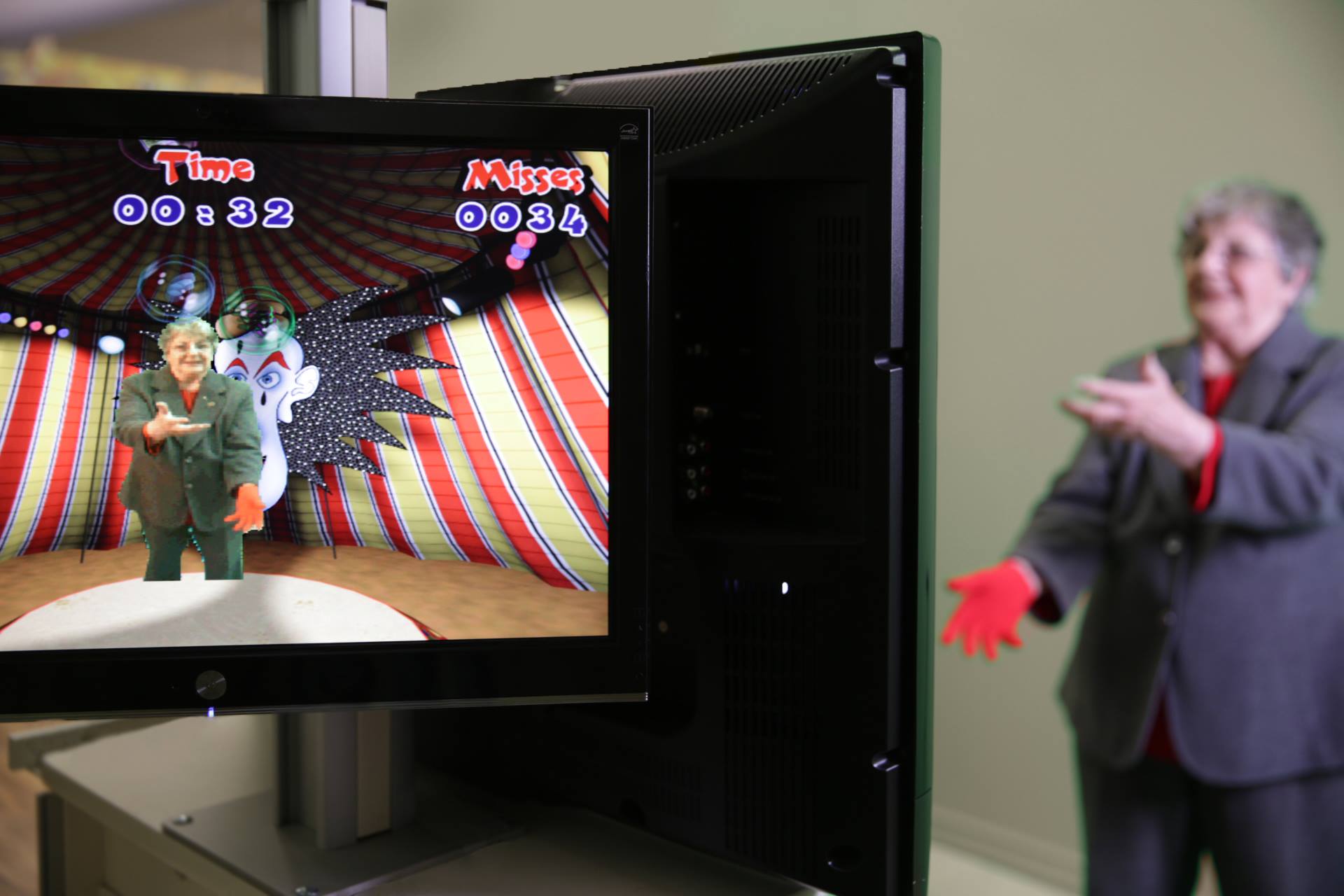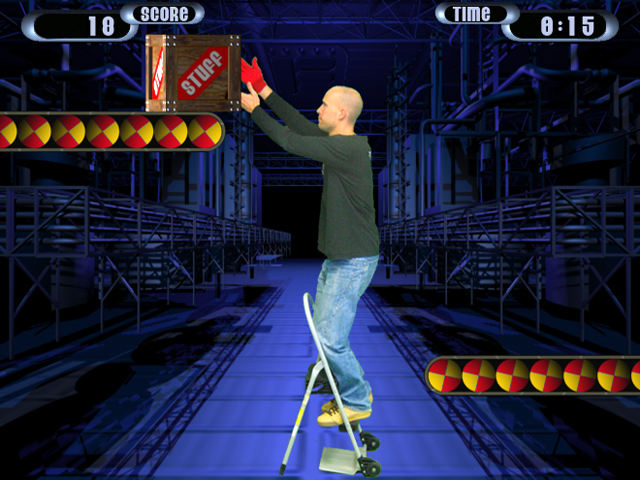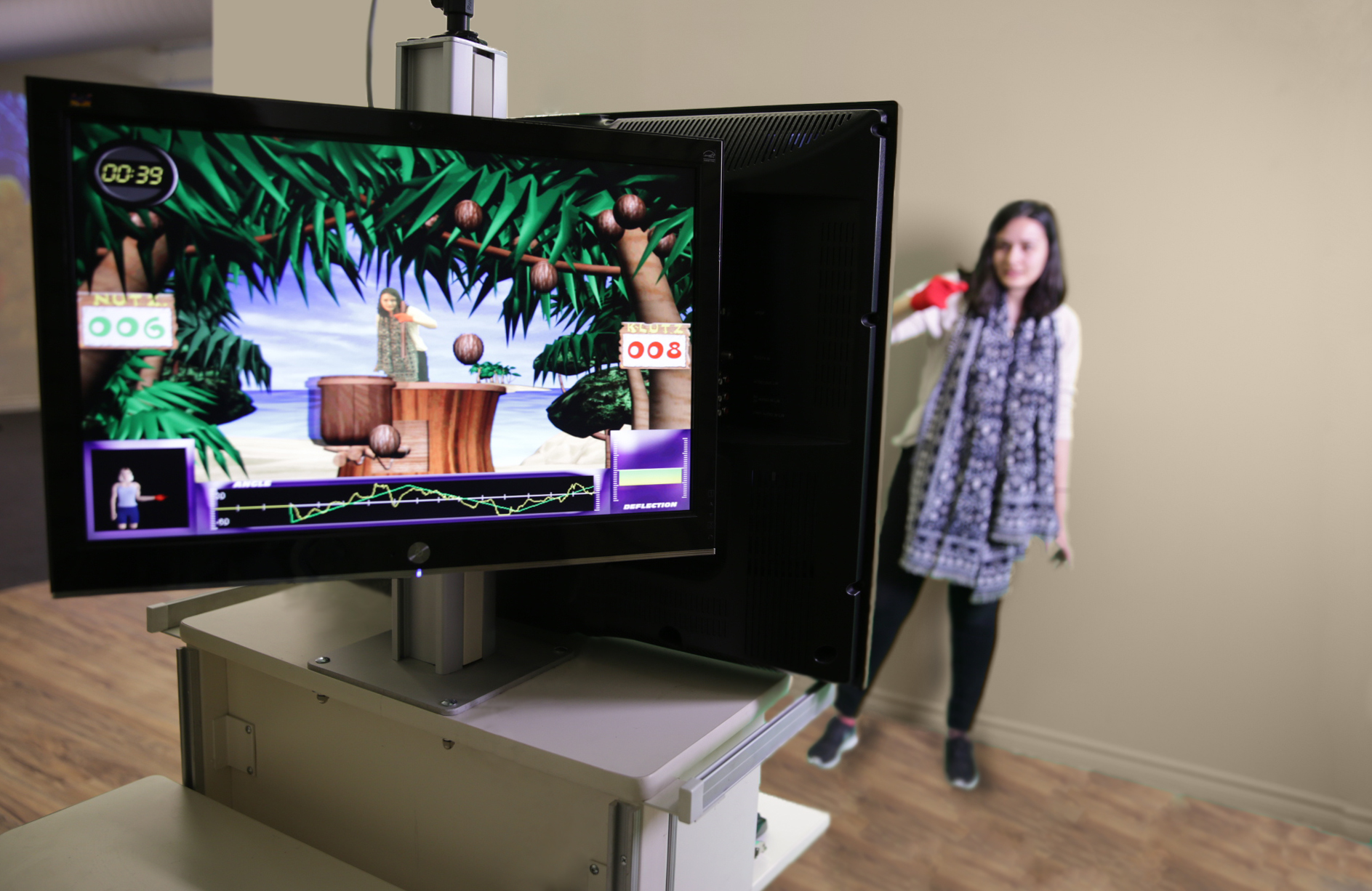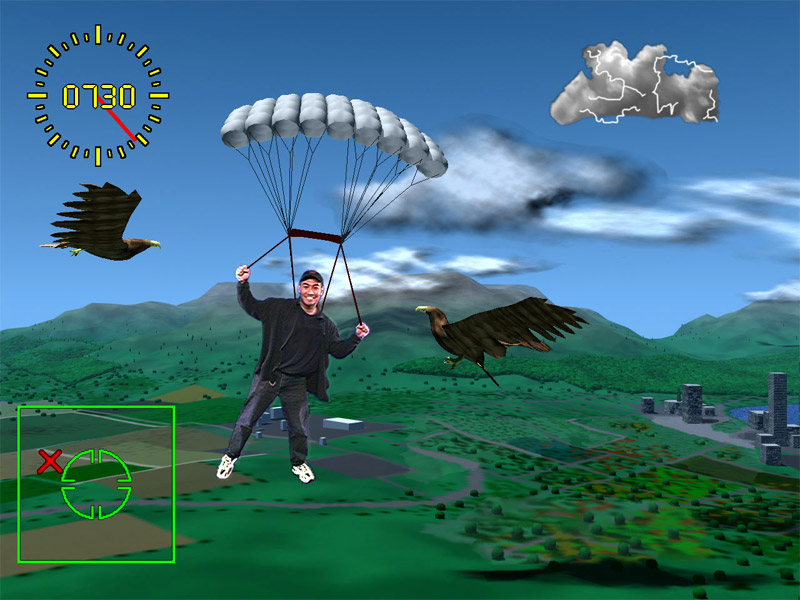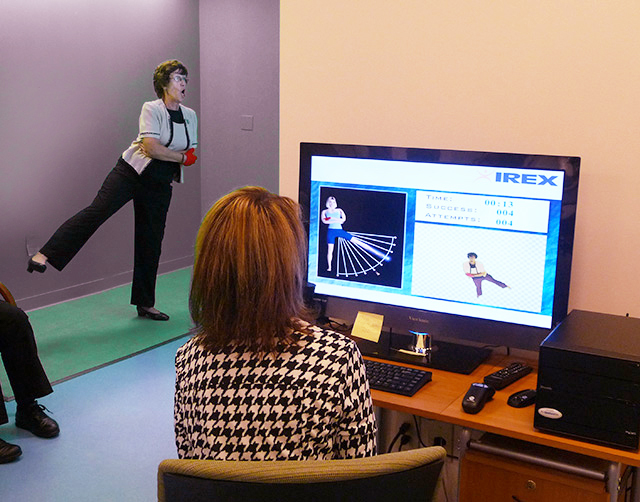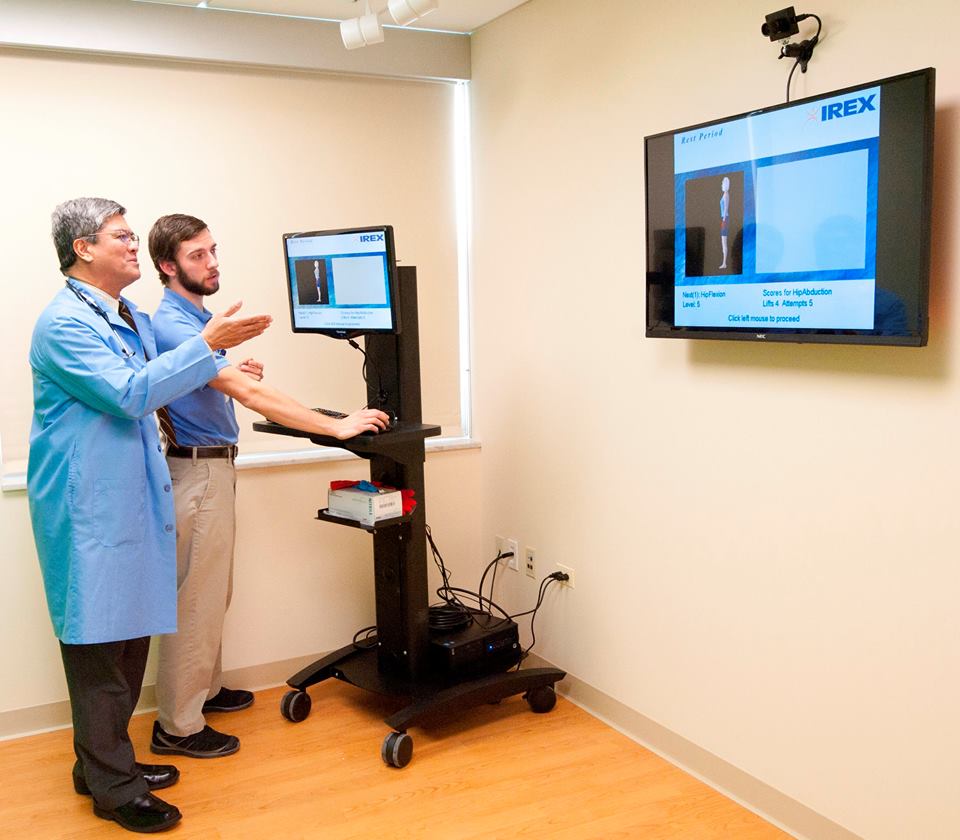 IREX is GestureTek Health's flagship product for the healthcare arena, with over 750 units installed in rehabilitation facilities worldwide. 
In 2001, when GestureTek invented and launched its IREX system, using its patented video gesture control technology, it revolutionized the rehabilitation experience. The IREX, short for Immersive Rehabilitation Exercise, used a camera connected to a computer, to place the live real-time, full body image of the patient onto the screen, where they would see themselves immersed in dynamic Virtual Reality video games. They were led through their exercises by reaching out and interacting with the game elements that surrounded them on the screen.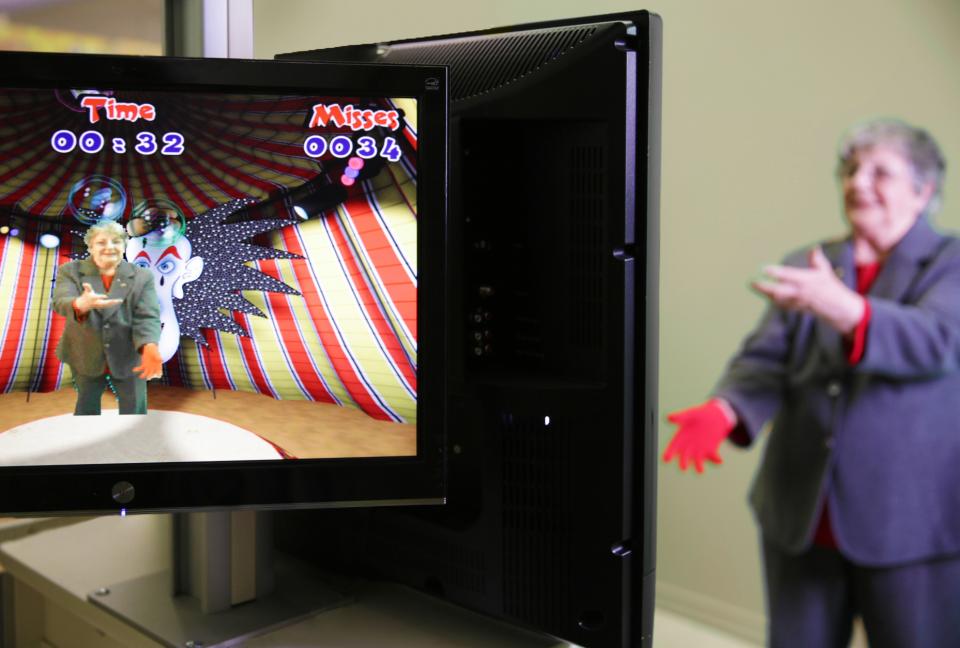 For the first time patients were being placed inside of virtual reality worlds, and rehabilitative exercises were being made fun, challenging and engaging experiences. 
It also allowed clinician to set up a regiment of games, and through simple mouse clicks, to change all the parameters of those games, so that patients would only make the movement and exercises that were just right for their current level of ability and recovery.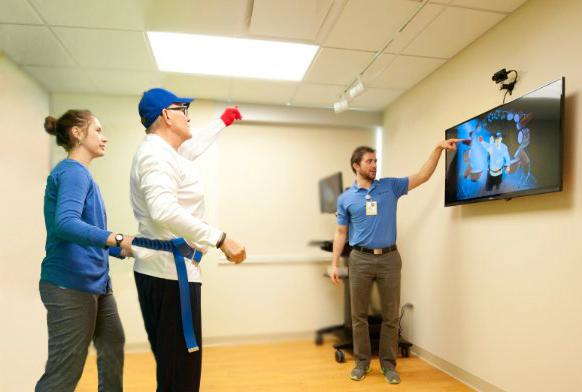 For the first time, the biometrics collected by the video camera tracking and analysis systems, which are stored to a database, allow clinicians to have access to quantitative results on the session to session progress of the patients.
IREX is an upper and lower-extremity exercise system that focuses on the following relevant physical tasks:
Balance
Flexion
Rotation
Abduction
Leaning
Crouching
Stair stepping
Exertion
Fine motor control
Timing
The therapist or clinician can specify and measure the range of motion, the frequency of successful exercises and number of repetitions completed resulting in: 
Improved executive functioning
Improved cortical reorganization
Improved balance and trunk control
Improved mobility
Increased sense of control, achievement and independence
Improved socialization
Increased compliance/ adherence
Increased enjoyment and desire to engage
Pain diversion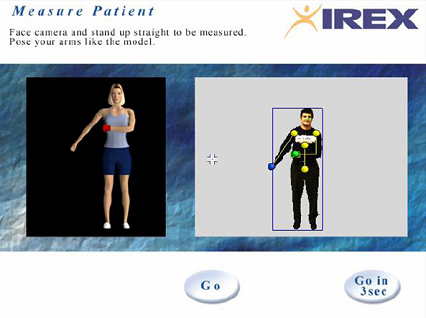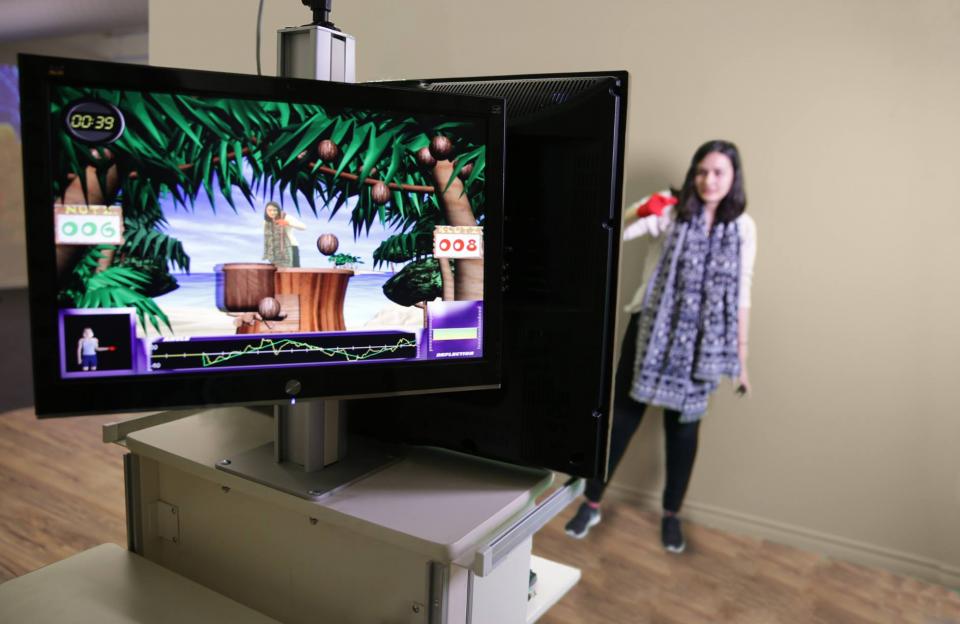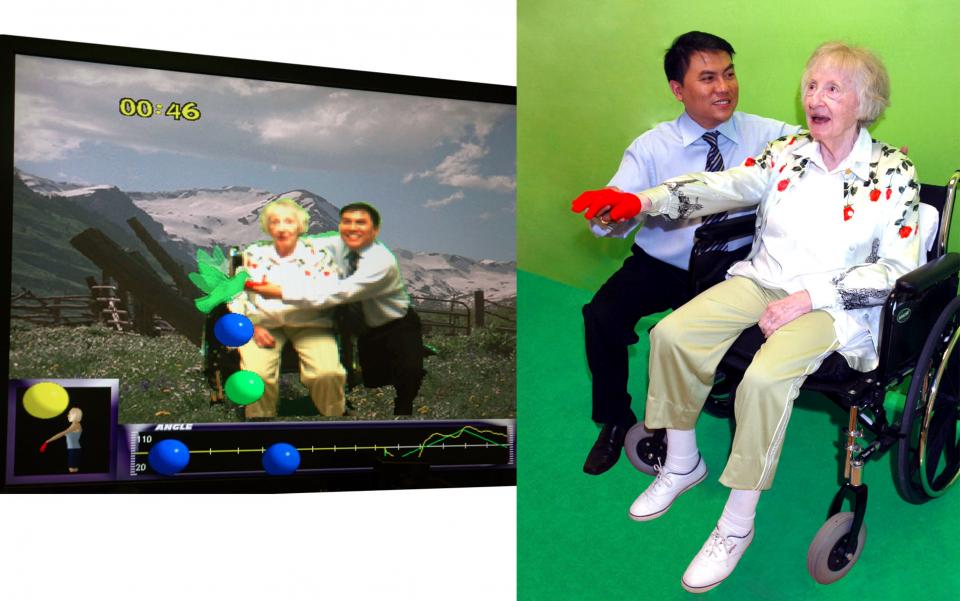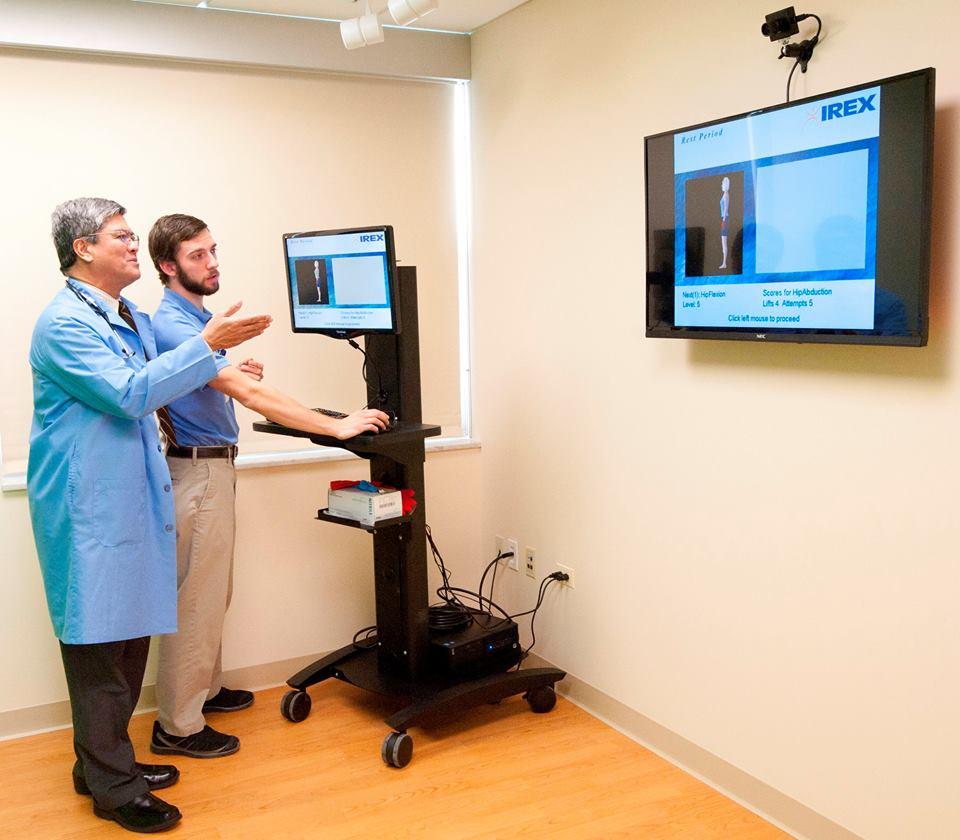 GestureTek was driven to create the IREX because early studies in the 1990s by leading physiotherapists showed that patients were excited to do their exercises in GestureTek's immersive virtual reality rehabilitation games, and many patients were up to 3 times as willing to do their exercises compared to traditional rehabilitation techniques. These same studies also showed that patients would do their exercises 2-3 times longer.
In regards to clinicians, we greatly value feedback from those who use IREX or any other type of virtual reality. We embrace dreamers, so if you have any ideas to share about how you believe virtual reality could be more helpful to you and your patients, please send us your ideas.
Interested in the benefits for hospitals and clinics and support research? IREX has proven rehabilitation benefits for Stroke, Physical Therapy, TBI & Neurological Injury, Autism and Cerebral Palsy.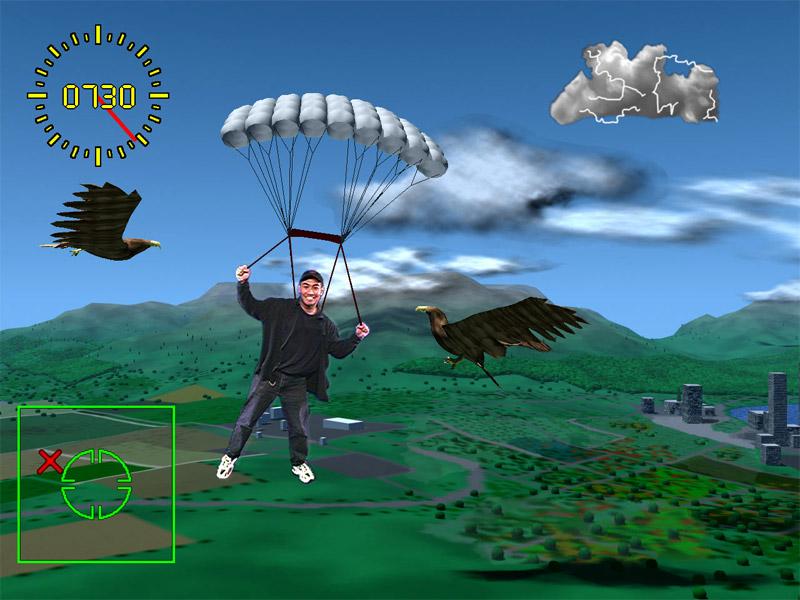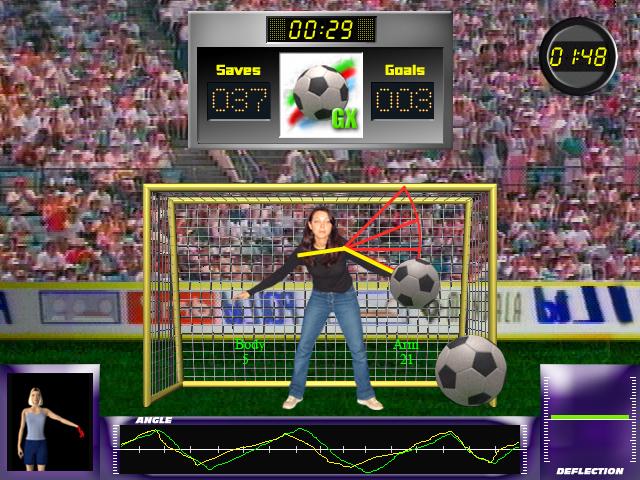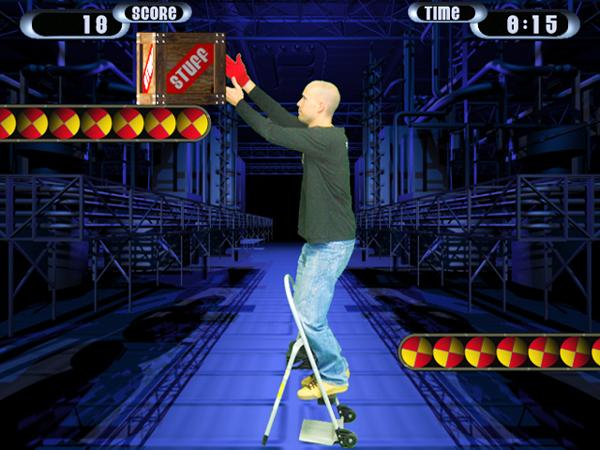 The IREX not only increases fun, engagement and treatment effectiveness for patients, but also translates into direct and indirect cost savings for hospitals and clinics that invest in the system. The IREX is a relatively inexpensive system: its price is much lower than many high tech rehabilitation systems that can cost up to hundreds of thousands of dollars.  Additionally, there are no after-purchase costs associated with disposable items and tech support fees that are common with medical devices.  Use of physical and occupational therapy assistants to work with patients on IREX contributes to staffing cost reductions. 


What Applications does the IREX come with:
With more than 20 virtual environments to choose from, patients can interact and become engaged in various physical activities such as soccer, basketball, volleyball, juggling, playing the drums and snowboarding, while making marked improvements in their mobility. These 20+ applications are provided with the system and each can be customized according to the patients' needs. All therapy sessions are tracked using the Session Management Tool, a sophisticated camera tracking technology which enables session reporting that can then be used to review and compare patient progress. Here are some examples of what various applications are designed to target: 
| Application | Function | Balance | Flexion | Rotation | Abduction | Leaning | Crouching | Exertion | Fine Motor | Timing |
| --- | --- | --- | --- | --- | --- | --- | --- | --- | --- | --- |
| Airborne Rangers | Upper body, arms and shoulders | x | x | | | x | x | x | | x |
| Birds and Balls | Shoulder and arms | x | x | | | x | | x | x | x |
| Conveyor | Shoulder, arms and trunk | x | | x | | | | x | | x |
| Drums | Upper extremities | | x | | | | | x | | x |
| Gravball | Upper and lower body and arms | x | | | | x | x | x | | x |
| Juggler | Upper extremities | x | x | | | | | x | x | x |
| Snowboarding | Upper and lower extremities | x | | | | x | x | x | | x |
| Sharkbait | Upper and lower extremities | x | | | | x | x | x | | x |
| Soccer | Upper Extremities | x | x | | x | | | x | | x |
| Volleyball | Full body | x | x | | | | | x | | x |
| Formula Racing | Head, torso and upper extremities | x | | x | | x | | x | | x |
| Forward Step Down | Lower extremities | x | x | | | | | x | | x |
| Forward Step Up | Lower extremities | x | x | | | | | x | | x |
| Forward Step Up & Over | Lower extremities | x | x | | | | | x | | x |
| Hip Abduction | Hip | x | | | x | | | x | | x |
| Hip Flexion | Hip and knee | x | x | | | | | x | | x |
| Lateral Step | Up & DownLower extremities | x | x | | | | | x | | x |
| Lunge | Lower extremities | x | x | | | | x | x | | x |
| Squat | Lower extremities and knee | x | x | | | | x | x | | x |
| Single leg Squat | Lower extremities and knee | x | x | | | | x | x | | x |