"Virtual therapy [IREX] is different in the sense that it has a motivating factor and a fun factor. The patients are able to see themselves on an actual screen so it gives you visual feedback, you're exercising and you don't even know that you're exercising. Before the patients would probably tell you 'I don't feel like continuing, I don't want to do this anymore', whereas now they are playing a game, they are having fun.  The therapist is actually able to use this as an assessment tool. It will give you limb velocity, it will give you range of motion."
Janet Persaud, Associate Director of Rehabilitation, Beth Abraham Health Services
"Our current understanding of the recovery of brain function after injury tells us, interestingly enough, that fun exercise equates to better outcomes.  In two not so scientific words, that is what IREX is…fun exercise."
Dr. Ryan Ernst, Neuropsychologist with Madonna Rehabilitation Hospital
"Research on stroke rehabilitation showed that video game-based therapy can enhance patient effort and motivation during physical therapy sessions. Research on GestureTek Health, featured on the American Heart Association website and elsewhere, convinced us that the company has an established healthcare customer base and extensive experience in touch-free interactive technology. So when we were looking for a motivational and engaging interactive system to enhance our therapy programs, we turned to GestureTek Health."
Randy Palmaira, Corporate Director of Rehabilitation for Beth Abraham Health Services
"We have demonstrated [in our study with the IREX]… that they [children with cerebral palsy] indeed do change their perceptions about their abilities; about what they can do and about how they are doing it. Results also show that this technology has enhanced the quality of their movements and posture when they perform… It's an opportunity for kids like John to do activities he would never do I real life…They get very energized and really turned on to the fact that they are able to experience these things."  
Dr. Denise Reid, Professor, University of Toronto
"[Using the IREX] They get a sense of feeling that they can do things they never thought they could do before, they can be a soccer goalie, they can do downhill skiing!… The children don't even realize how hard they are working because they're just having fun."  
Karen Christopher, OT, Lead Pediatric Occupational Therapist for the Atlantic Rehabilitation Institute
"Reactions from patients regrading IREX, generally speaking, are that they love it. They really feel that they are a part of their exercise program. They enjoy very much being seen on the screen, watching their performance, being able to chart their progress within the performance. From a clinician's perspective, what I'm most excited about with IREX is the ability for a patient to perform within an actual environment a specific task that's goal oriented, and for the patient to take the responsibility in performing that task by analysis of what they see on the screen. So they are involved within the screen, performing the task, and obtaining better agility, balance and proprioception, without them even knowing that that's what's happening, which is translated into daily activity because we don't need to think about those things on a daily basis."
Donna J. Croce, P.T., P.C. 
"These virtual reality exercise games [IREX] are designed to promote functionable tasks such as stepping, weight shifting, muscle strengthening range of motion and mobility, that are very essential for walking. They do not perceive this therapy as therapy, they perceive it as play... This virtual reality exercise is play based exercise."
Dr. Sung H. You, P.T., PhD. American Heart & Stroke Study
"We think that if people are having fun during their therapy then they will work harder, participate longer, and that will give us better outcomes. It's [IREX] a workout but you don't realize it because you are having so much fun." 
Lynda Savard, Physical Therapist, Abbott Northwestern Hospital
"The VR approach was seen as more positive in general by participants and there were stronger comments about balance and confidence improvement. It is significant that comments from the VR group suggested that there was family interest in the intervention. Finally, the VR participants indicated strongly that their participation increased their independence and confidence. Importantly, while both groups demonstrated improved functional balance scores, balance confidence scores and positive participation comments, the greater degree of interest and excitement elicited through VR could potentially impact on the desire and ability of adults with TBI to continue an exercise programme ..."
M. Thornton, S. Marshall, J. Mccomas, H. Finestone, A Mccormick, & H. Sveistrup

Benefits of activity and virtual reality based balance exercise programmes for adults with traumatic brain injury: Perceptions of participants and their caregivers (2005)
"These participants demonstrated an exceptional degree of enthusiasm during each VR experience, reacting to the various stimuli via appropriate and goal – oriented responses. Their responses to the presence questionnaire indicated that their level of involvement was considerable." 
R Kizony, N Katz, H Weingarden And P L Weiss
Immersion without encumbrance: adapting a virtual reality system for the rehabilitation of individuals with stroke and spinal cord injury (2002)
"The overall strength and quality of the evidence on the utility and efficacy of the GestureTek system is emerging, with the highest level of evidence available coming from smaller RCTs. While stroke and cerebral palsy populations have received the most attention from researchers, clients across the life span, and from 11 different diagnostic groups, have been represented in this body of literature."
Glegg SM, Tatla SK, Holsti L.
The GestureTek virtual reality system in rehabilitation: a scoping review (2013)
Klenner plays [IREX] games for roughly one hour a week that help him move his arms — one where he catches falling coconuts in a barrel and another where he picks up boxes from one conveyor belt and places them on another. "Those are my two favourite games because they help me stretch out my arms. I get a real good stretch," said Klenner. "Soon, I'll be able to get my arms down and by my sides."
CBC News: Zachary Klenner, Patient with Cerebral Palsy at the Alberta Children's Hospital
"In their day-to-day lives, children are surrounded with computer technology, so it is often hard to get them motivated to do more traditional exercises. This system [IREX] is a fantastic way to encourage exercise for these children and lets them play in a very fun computer world that most of them are very comfortable with."
Dr. Barbara Ramage, Co-ordinator for the C.H. Riddell Family Movement Assessment Centre at the Alberta Children's Hospital.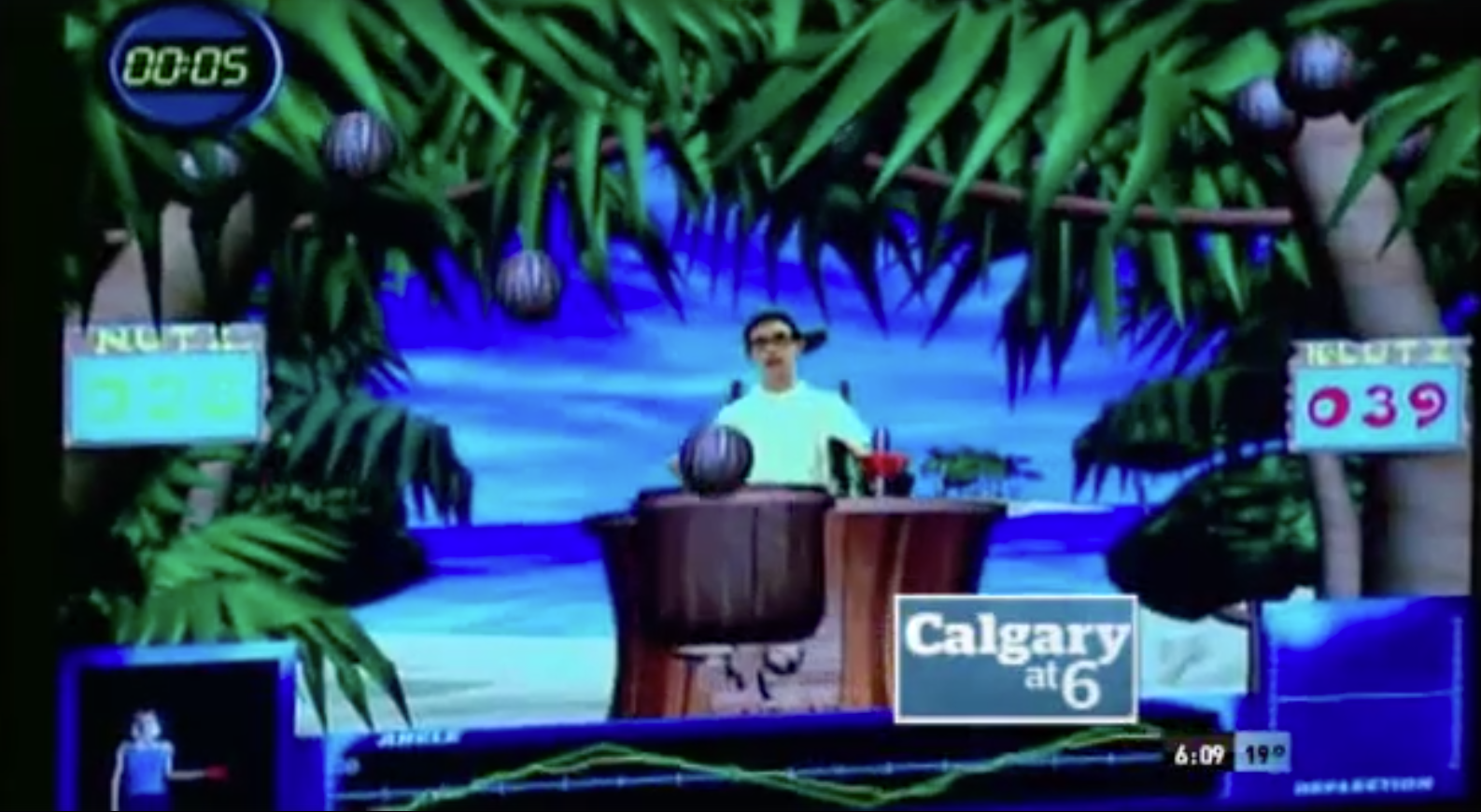 Alberta Children's Hospital
"In order to engage the patient they need to be able to see themselves, and because there is a mirrored therapy part of this system [IREX] the patient will be able to self correct. It may be virtual but there is actually reality to it and the reality is that these movements that they are performing now will be the same movements that they will do when they go back to the community and start living their lives." 
Randy Palmaira, Executive Director, Beth Abraham Health Services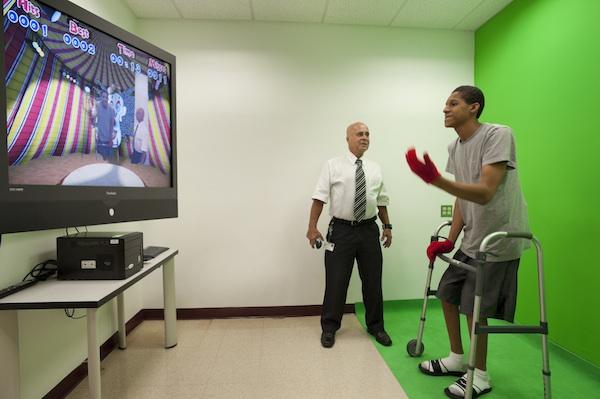 Beth Abraham Health Services
"GestureTek is one of the key components that we've put in a lot of our zones. I think a lot of people have seen it in hospitals, where you can roll onto the floor, or walk on it, or crawl on it, whatever you want to do as a kid, or a young adult, or even a parent, and the fish will swim as you move."
Adam Graves, Co-Founder, Smilezone 
"Just the motivation of it is great. He can perform an action and actually see a change in what the computer displays. The quality of his walking, as well as his walking endurance, has improved. As we all know, kids get quite distracted, I need to find a way for kids to stand, and to walk, and to make it fun for them — which is the biggest thing The Cube provides. Their actions cause a change that they can see in the floor display and that's a big thing for a kid. Prior to The Cube, I'd try to motivate the child to stand any way I could. With The Cube, outcomes are better because children are more motivated. They spend more time hard at work on their therapy because they're having fun."
Tracy Sullivan, Pediatric Therapist, Glenrose Rehabilitation Hospital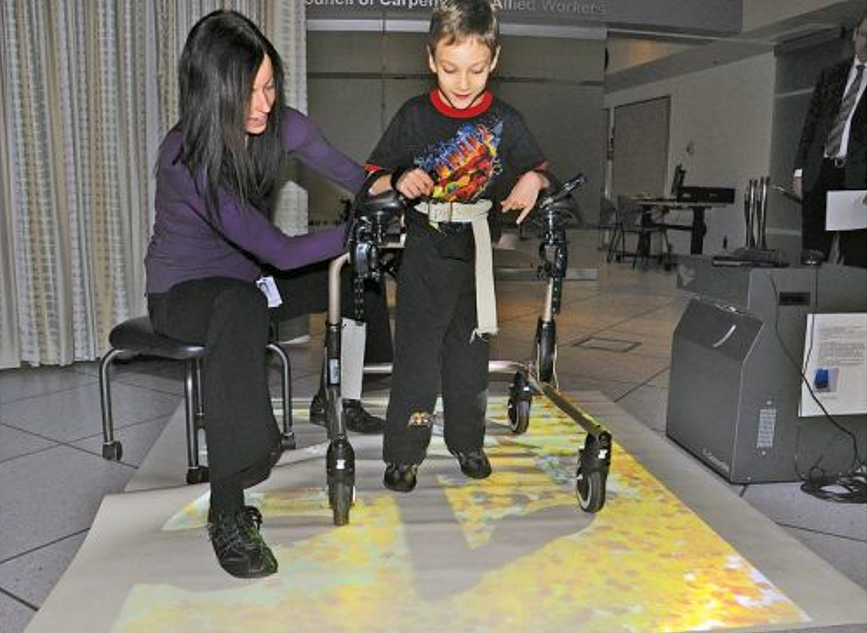 Glenrose Rehabilitation Hospital
"These are amazing tools that your company has created...so many new and wonderful opportunities especially for those with special needs and autistic children.
We saw your Cube at the Old Navy store. My high‐functioning autistic son interacted with his brother without a fight. I could have stayed there all day just watching them play.
I hope that your company takes the world by storm and that everyone sees what I  see. I believed in your company so much that I would change careers to work with  these products. They are just amazing. I see so much potential with your company." ­
M.P. Indiana, U.S.A.

"My son loved the interactive wall in the waiting area!  How neat!  We should put one in the adult waiting area—I think they would get a kick out of it! " 
Mother of patient at the Augusta Health - Children's Hospital of Georgia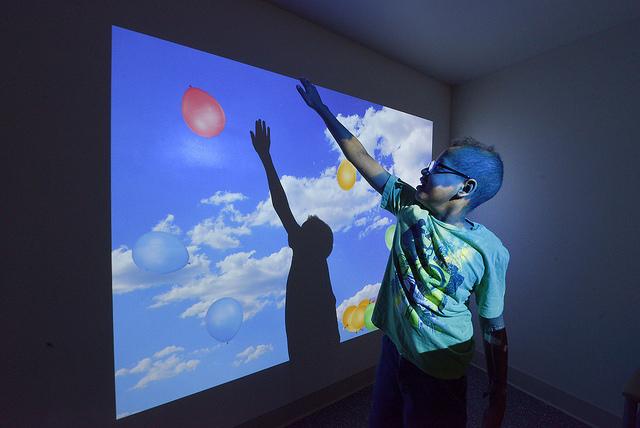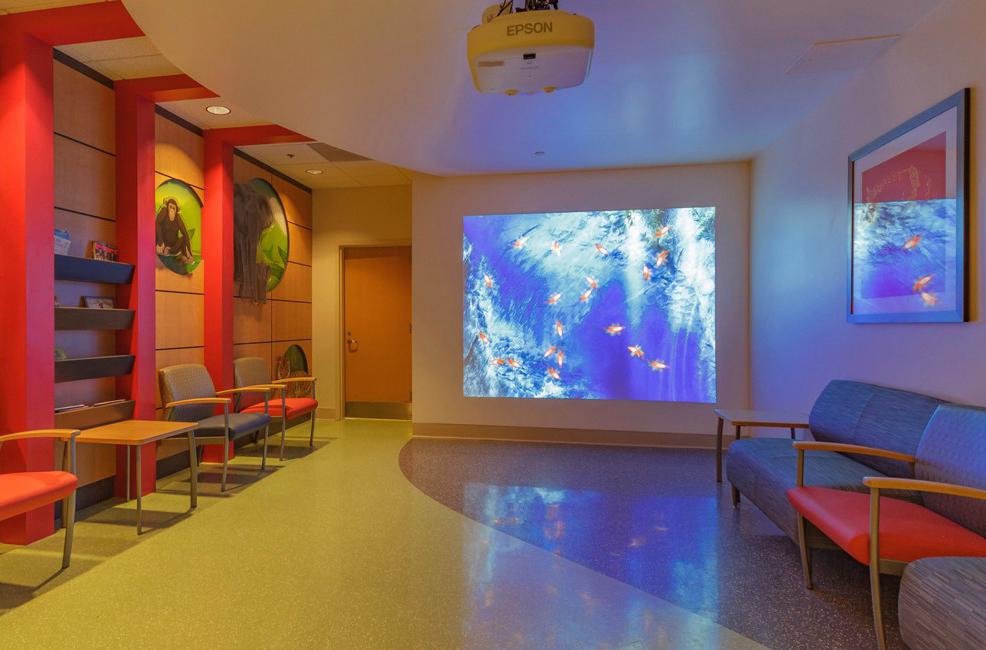 Children's Hospital of Georgia
"The WallFX System in Woodburn is such a hit! Here are a few photos of the space." 
Jessica Radecki, CLARK/Kjos Architects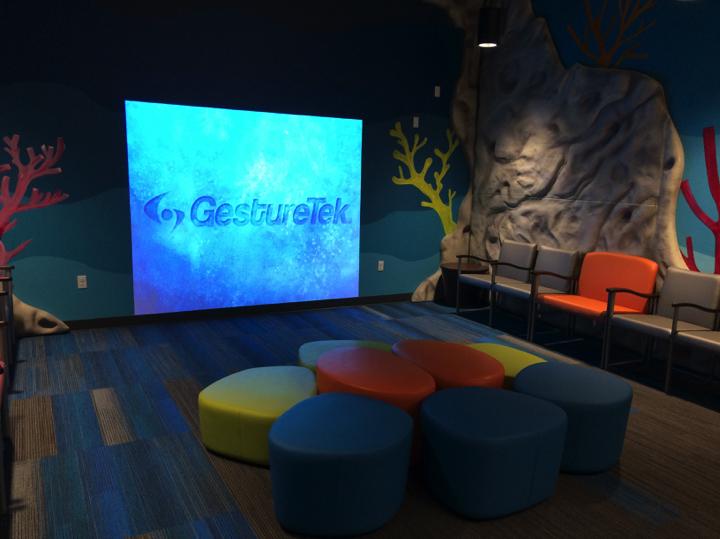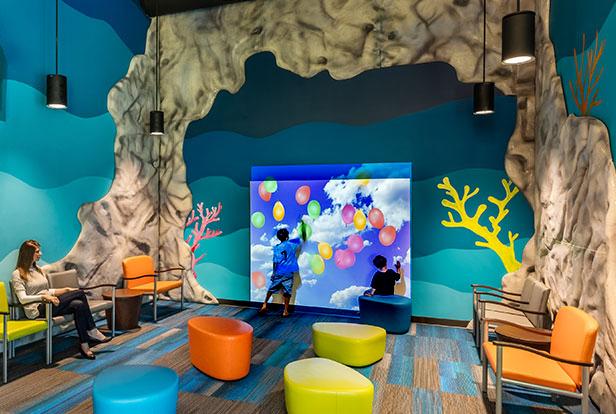 Pacific Pediatric Clinic
"Kapiolani Medical has done a fabulous job with their new building!!!  It's nice and clean.  Our son absolutely loved the interactive projections found on the 3rd level next to the rehab center.  It kept him entertained for a long time.  Thank you to whoever thought of this...made our son's visit a little more easy."
Jenn P., Mother of Patient
"Our families have loved our GestureTek system. In fact, visits are often prolonged because the children stay for 10-15 minutes longer just to play afterward. Several have even cried when they had to leave. Our practice offers home visits, but we have warned parents that their children will insist on coming in to the office for their visits. This has actually happened already."
Erik Cohen, MD, Next Generation Pediatrics, LLC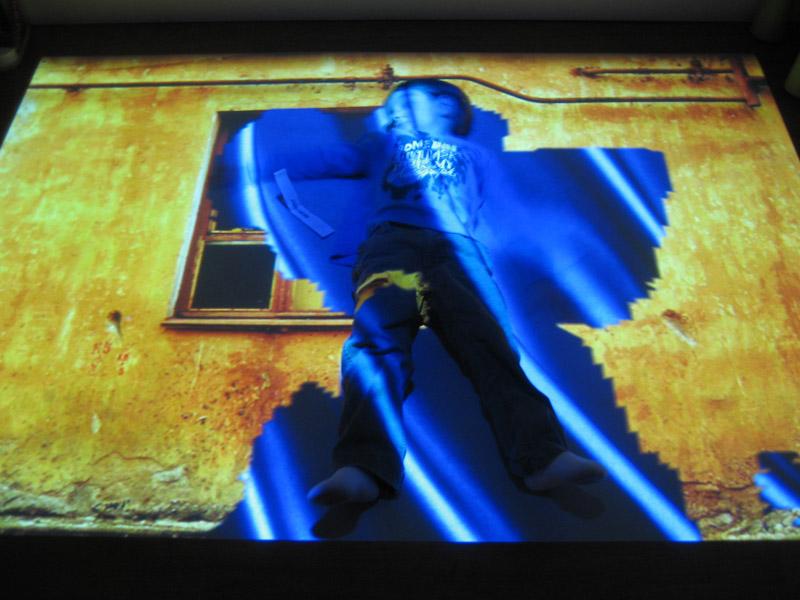 Next Generation Pediatrics