[CBC News] June 7, 2012 - Young patients at the Alberta Children's Hospital now have a chance to go mountain climbing or snowboarding without  leaving the hospital grounds.
The hospital now has a virtual-reality Interactive Rehabilitation and Exercise System (IREX) to help with treatment and disease management.
IREX uses green-screen technology to immerse patients in a sporting or gaming environment where interactive and customized exercise programs build balance, mobility and endurance.
Zachary Klenner uses the system. His curved spine, coupled with the effect of cerebral palsy on his arms, makes it difficult for the 16-year-old to bring his arms and hands together.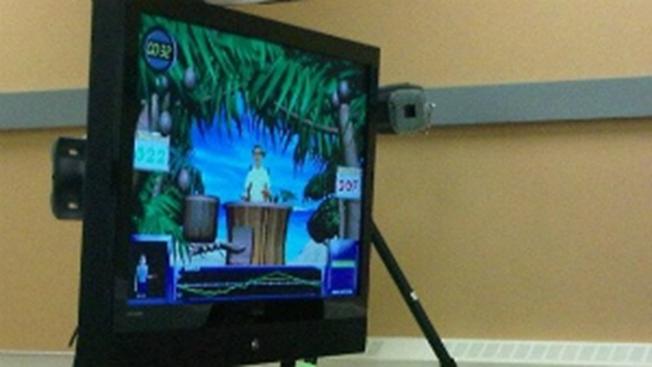 Klenner plays games for roughly one hour a week that help him move his arms — one where he catches falling coconuts in a barrel and another where he picks up boxes from one conveyor belt and places them on another.
"Those are my two favourite games because they help me stretch out my arms. I get a real good stretch," said Klenner. "Soon, I'll be able to get my arms down and by my sides."
Patient activity can be tracked over the course of the treatment, which allows health professionals to see what improvements have been made.
"In their day-to-day lives, children are surrounded with computer technology, so it is often hard to get them motivated to do more traditional exercises," says Dr. Barbara Ramage, co-ordinator for the C.H. Riddell Family Movement Assessment Centre at the Alberta Children's Hospital.
"This system is a fantastic way to encourage exercise for these children and lets them play in a very fun computer world that most of them are very comfortable with."