The Cube gives youngsters a leg-up during rehabilitation
Dean Kopfensteiner walks slowly and deliberately across a bed of red and orange leaves. Wherever he steps, the leaves scatter to reveal a robot arm, then a leg and finally a whole transformer.
Dean, 6, has cerebral palsy and in therapy uses a new technology called The Cube to help him walk.
He demonstrated his abilities Wednesday in the Building Trades of Alberta Courage Centre at the Glenrose Rehabilitation Hospital.
"The Cube is comprised of a computer and a projector that sit inside a big black box and shine images onto the floor," said Darrell Goertzen, a technology service leader at the Glenrose.
"It has motion-sensing devices, it figures out where your feet are, and it changes the image" explained Darrell Goertzen. "The motion sensors detect movement near the surface and that causes the different interaction effects," he explains.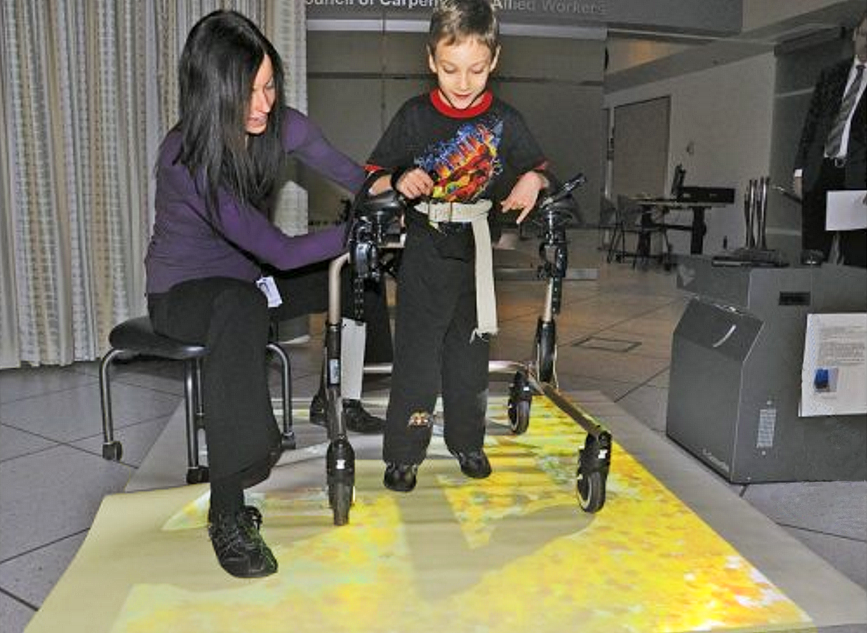 "Just the motivation of it is great. He can perform an action and actually see a change in what the computer displays. The quality of his walking, as well as his walking endurance, has improved,

" Sullivan said of Dean's progress as a result of the device.
Dean walks for five minutes, rests a minute, then repeats during twice-weekly, hour-long sessions with the Cube. Games project friendly fish that swim around children's feet, as well as characters from family movies Shrek and Kung Fu Panda. One game resembles a huge air-hockey board and in some games, smoke billows or water ripples with each step, revealing a secret image underneath or creating an exciting visual.
"The tool has helped my son," explains father Barry Kopfensteiner, "he's happy to come here to do it; and he looks forward to going to his therapy because of it."
"I like that one," says Dean. "I scored a goal."
"Dean thinks The Cube is absolutely awesome," adds mother Kelli Kopfensteiner.
"Keeping kids strong and on their feet is the goal. As we all know, kids get quite distracted. I need to find a way for kids to stand, and to walk, and to make it fun for them — which is the biggest thing The Cube provides. Their actions cause a change that they can see in the floor display and that's a big thing for a kid."
Tracy Sullivan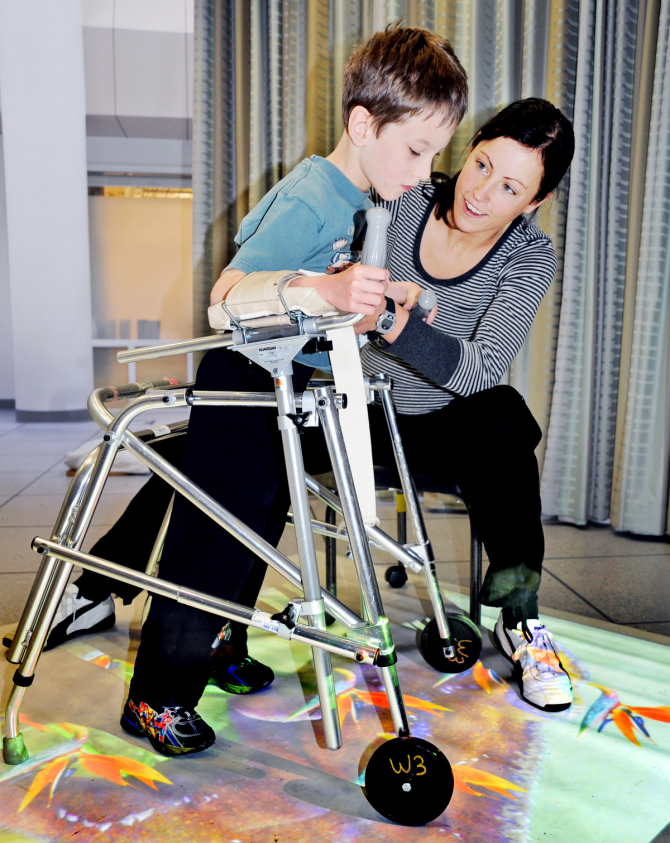 "They have more motivation to walk or do what they're doing," says Dean's physical therapist, Tracy Sullivan. "Most can go longer when they're more engaged." 
Dean had surgery that lengthened the tendons on the front of his hips and insides of his legs to give him a greater range of leg motion and freedom of movement.
"His legs kind of crossed and he was bent forward when he walked," says Tracy Sullivan. "With The Cube, we're getting him back on his feet and walking again."
Tracy said she's already seen an improvement in the quality of Dean's walking as well as his endurance since using the Cube - and he hasn't been the only child to benefit.
About two dozen children have been helped by The Cube since it arrived at the Glenrose, including six-year-old Dean Kopfensteiner.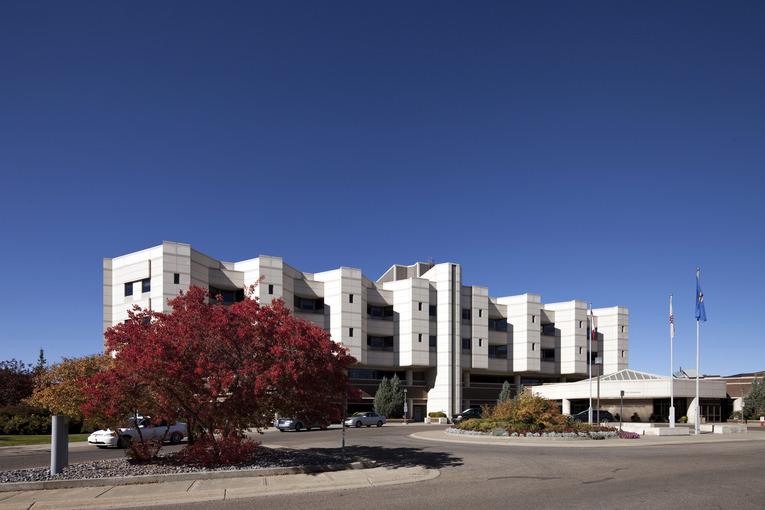 "We were looking at innovative uses of technology, and one of the things the therapists asked for was a way to make therapy more engaging," Darrell Goertzen said.
That certainly rings true for both Dean and his physical therapist, Tracy Sullivan. Asked what the device is like for him, Dean summed it up in one word.
"Great!" he said. Sullivan agreed, saying treatment sessions can go longer because kids stay engaged.