"If the environment itself feels friendly and child centered, the children will be more receptive to care."

Maria Dyck, President and CEO, St. Joseph's Health Centre 
Patients, families, physicians and staff celebrated the official re­opening of the newly renovated children's floor by Diamond Schmitt Architects, including an expanded Just for Kids Clinic at St. Joseph's Health Centre. A $1 million gift from CIBC has re­named the space, CIBC Just for Kids Clinic, the only paediatrician­ run walk-in clinic inside a hospital in Toronto. The award-winning facility has been recognized for it's effective use of immersive play in creating a refreshing space for patients and families. 
The spacious and welcoming floor includes an enhanced reception and waiting area that improves the flow of the clinics, as well as a new children's playground with interactive games. Gesturetek Health's custom TableFX, a large uniquely shaped table with gesture interactive projections, is the centerpiece of the St. Joseph's Health Centre's Just for Kids Clinic lobby. The clinic also includes a ScreenXtreme, GestureTek Health's gesture controlled, immersive projection solution for walls and screens. Patients and families can find themselves immersed in an interactive projection of the Grenadier Pond and falling petals from the cherry blossoms of nearby High Park. Children can even play touch free soccer or hockey with their parents or siblings while waiting to see the doctor. The vision behind the re-design of the clinic was to bring in elements of the west end community.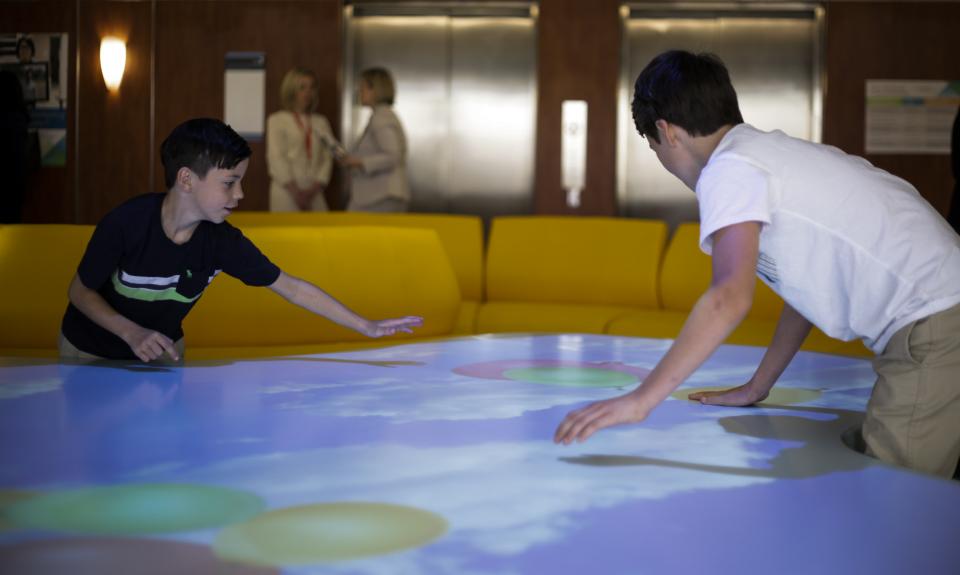 Not only do GestureTek Health's GestureFX's solutions provide interactive, engaging environments for health care facilities, they also support custom content creation to meet the needs of any facility, and create a relaxing and exciting environment that can help children to release any stress related to doctors' visits.
"We recognize that the spaces we provide care in have a profound impact on the experience our patients have with us," said Elizabeth Buller, President and CEO, St. Joseph's Health Centre. "Our vision is to advance the health of our community by being Canada's best community teaching health centre. One of the ways we are doing this is by continually improving our buildings and spaces to create more comfortable, welcoming environments to receive great care."
"The design and the décor of the entire floor were inspired by the nature and animals of High Park, nearby waterways like Grenadier Pond and Lake Ontario …"
GestureTek Health Awarded the 2017 DSE GOLD APEX Award for St. Joseph's Install
DSE is the world's largest and longest running conference and trade show exclusively dedicated to showcasing innovative digital displays and interactive technology solutions. Digital Signage Expo has also been acknowledged as one of the 250 largest trade shows in the U.S.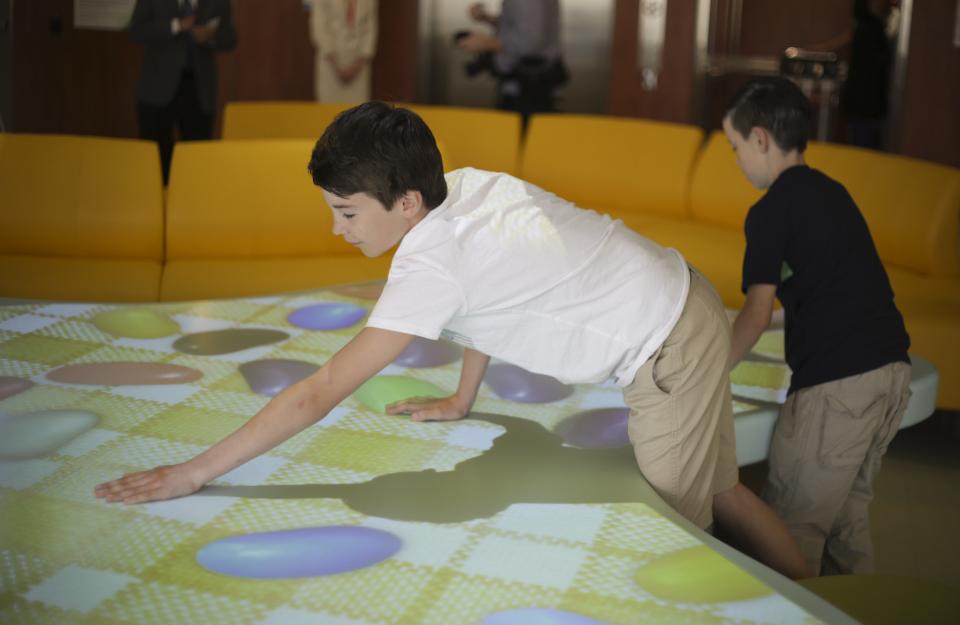 For more information on the St. Joseph's Health Centre renovation, click here. 
For more information on the DSE APEX Award & GestureTek's nomination click here.