Leeza Gibbons experiences GroundFX at Park Ridge Health
During a visit to Park Ridge Health in Hendersonville, North Carolina, founder of Leeza's Care Connection & American talk show host Leeza Gibbons was introduced to GestureTek Health's GroundFX technology as she came across the interactive floor projection in a hospital corridor. The technology creates unique interactive floor projection used in hospitals, clinics and medical facilities around the world. Gibbons was so taken with the technology she posed for a picture with it and shared it with her followers on social media! 
Catching the attention of children and adults alike, GroundFX delivers a hybrid of creative, engaging activities and sensory experiences that stimulate imagination, encourage movement and play, and can also help lower anxiety levels for children while waiting to see the doctor. More than 25 applications are included with the system and are all designed to spark natural curiosity. Applications allow patients of all ages and abilities to generate special effects such as setting off fireworks with the wave of their hand, cracking ice as they walk across a virtual frozen pond or playing a virtual sport, all through simple hand, foot and body gestures. Themed applications are also available to celebrate holidays, and to teach children about concepts such as numbers, weather, geography and animals.
The technology is designed to track body movement, and the sensitivity can be adjusted to respond to even the slightest gesture with dynamically changing images, sounds, and effects, making it fully accessible to everyone. GroundFX can be incorporated into foyers, waiting rooms and hallways to give life to medical facilities and offer interactive games for families to play together.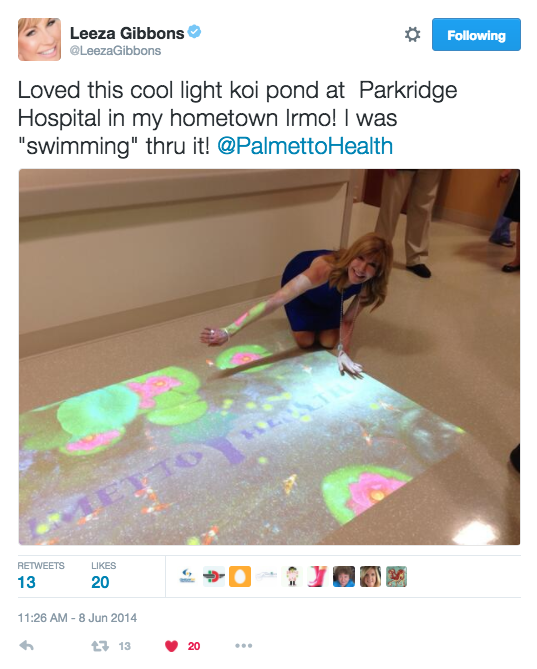 GroundFX has also been integrated into medical environments such as sensory & Snoezelen rooms around the world. The GroundFX family of products are completely hygienic and prevents the spread of germs, as it requires no contact with any surfaces in order to enjoy the technology.