Soft music, low lights and soothing scents create the atmosphere. And everything from swings to ball pits to motion technology pads provide the stimulation in the new motor skills room that opened this year at Frenship Legacy Elementary School. 
Students in the life skills unit at Legacy have sensory needs that other students may not have, including some students with autism or with developmental needs.
Superintendent Michelle McCord described hearing the students in the room when it first opened.
"There's that sound of little bitty kids giggling. Anybody would recognize that sound anywhere — Kids squealing with delight, and that is the sound that filled that room," McCord said. "It is amazing, and the parents were thrilled, the kids were thrilled, and it's a game changer for a lot of them."
Rebecca West, a special education teacher, said in the first year that Legacy was open, it had a sensory room, but did not have much equipment in the room.
"This equipment's extremely expensive, and so we were just having a lot of problem behaviors, a lot of frustration and a lot of aggression," West said.
Hailey Wiginton, an aide in West's class, said the students had a lot of anger.
"They had sensory needs that weren't being met at all," Wiginton said. "They just really needed a safe place to go where they could have some of these needs met, and have some sensory stuff met."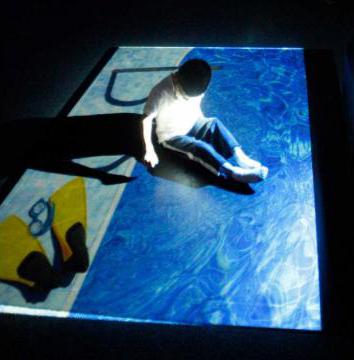 Jesiah Hernandez sits on an interactive GestureTek Cube projection making the water patterns change when he touched them.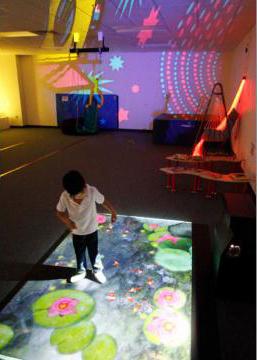 Jesiah Hernandez stands on the GestureTek Cube porjection, making fish and lily pads move as he steps on them. Life skills students use the motor skills room at Legacy Elementary School. 
One day, the two educators looked at each other and decided to write a grant requesting money for equipment. The duo worked on it for months, submitting it to several organizations.
"Then the Blue Star Foundation called her and said, 'We're going to fulfill the grant,' " Wiginton said. "I remember the day so vividly. She was on the phone, and she literally dropped the phone. I don't even know what was being said on the other side of the phone. We're in the middle of class, and she said, 'Yes, ma'am.' And she dropped the phone and she looked at me."
Wiginton said she feared one of West's family members had been in a car wreck.
"She looked at me and she said, 'They're going to fulfill the grant,' " Wiginton said, adding that she didn't believe her.
Blue Star Foundation, a local non-profit organization that provided the $30,000 grant, was founded by Marissa Scheef. She and her family members were honored at a recent Frenship school board meeting for their contribution to Legacy.
"She's a parent," West said. "She knows how important this is."
For the 60 life skills students at Legacy, and 20 more students who are in special education classes, the motor skills room that opened this fall really is important, Wiginton said. Some students may not need to come to the room more than a few times a week, while others visit two to three times a day. "You can tell. You know who's having a rough day," West said.
The room accommodates students with a wide variety of needs. One of the more popular attractions in the room is a GestureTek pad, which is a sensor-based pad onto which a projector transmits images on. It looks like a giant iPad on the floor. Some students come into the room and jump gleefully onto it. More medically fragile students can lay on the floor and manipulate the images on the GestureTek with just a finger movement.
Wiginton said one girl will simply lie on the floor on her stomach and wait for things to happen on the pad near her area. "She can't walk, and she can manipulate this screen," she said. Some students aren't able to tell teachers what they really like, West said, but by watching their students, they can figure out what the student really needs.
"When you have all these children and they're non-verbal and they can't come tell you, 'I really like the swing. I want to get in the swing.' But they come in here and you can facilitate that communication and help build those relationships with some of those kids," West said. With the lights on, Wiginton said, it's sort of just a big room with toys in it.
"Then when you lower the lights down, you get the feel of like, 'This is a bit more calming.'... You'll notice your high-energy kids will run and crash, dive in the ball pit, swing, play on the GestureTek, and then by the end of their time here ... she stops, takes a breath, then says softly, 'OK.'"
A student with that type of reaction probably sits and plays quietly during their last few minutes in the room, having found stimulation to help them calm down, she said. "It's an absolute blessing," West said.