Immersive WallFX motivates kids to get active through virtual child's play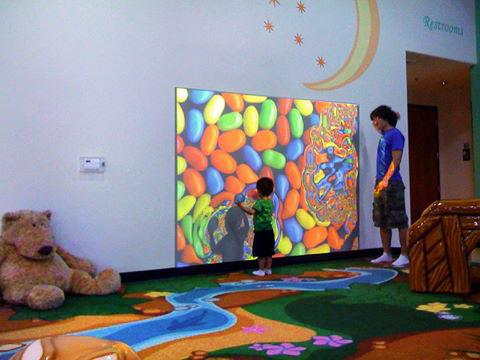 Health Club Managements magazine
By Kate Cracknell
The Child's Play Family Activity Centre in Las Vegas has unveiled its latest innovation - a new GestureTek WallFX interactive display system!
The centre, which has more than 500 members, has been designed to cater for everyone in the family without breaking anyone's budget. A monthly fee covers both informal play time and formalised, age-appropriate activities.
There are activities for kids aged 9 months to 10 years, with more than 30 different classes - from music, art and drama to gymnastics, yoga, karate and tumbling. There are even classes to teach kids foreign languages or baby sign language. Parents can participate in some of the classes, or socialise with other parents in a communal area.
The new interactive wall has been introduced to add another fun, engaging element to get the kids active. Using patented video gesture control software, along with a camera and projector fixed to the ceiling, the system tracks the children's movement and responds accurately to the subtlest gestures, allowing for real-time interaction.