The Augusta University Health (AU Health) Children's Hospital of Georgia (CHOG) underwent major renovations to improve patient experience and liven up their Department of Radiology. The CHOG had not been renovated in 16 years and was struggling with dated technology, inefficient workflows and a stale, static environment. The resulting new space, featuring a mural sized WallFX,  was so succesful it won the Patient-Centric Imaging Award from Health Imaging magazine.  
AU Health is known for delivering world-class healthcare and has long recognized the importance of understanding children's specialized needs and tailoring their care to fulfil them. The CHOG Radiology Department redesign supports this mission to the fullest.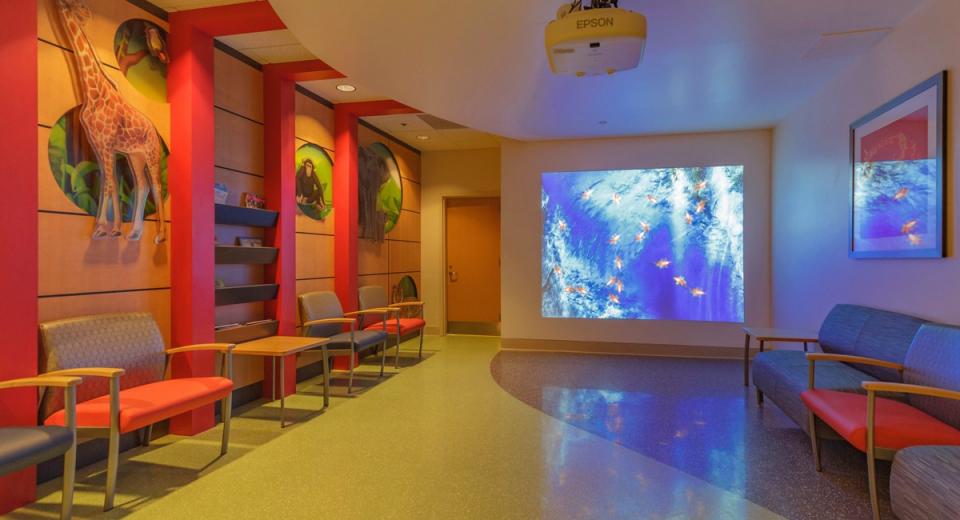 "We are thrilled to be recognized again by Health Imaging for our efforts in improving the patient experience in radiology. But, by far, the most rewarding part is seeing the children smiling and laughing while they're here."

Dr. James V. Rawson
Chair of the Department of Radiology & Imaging at the Medical College of Georgia, Georgia Regents University
The new redesign includes converting the traditional waiting rooms into patient lounges, the first of which is the main waiting area. Transformed with soft lighting, comfortable chairs and the installation of WallFX, they knew that adding an interactive wall projection would take the patient experience to the next level.  WallFX projects stunning displays that respond to every patients move, creating immersive environments where patients can control beautiful effects and virtual worlds with simple gestures, creating a positive distraction in the waiting room.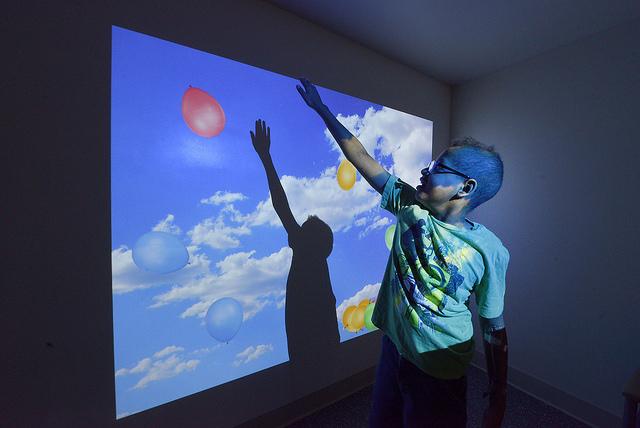 These interactive elements create a fun lively environment for patients and families, encouraging socialization, and more importantly reducing anxiety and stress related to medical procedures or visiting the doctor.
As the world's most advanced gesture recognition solutions for interactive displays and surfaces, WallFX uses a patented tracking system that reads the position of the body at all times. It adapts to varying indoor and outdoor environments   and can display onto any surface, transforming traditional waiting rooms into exciting immersive experiences!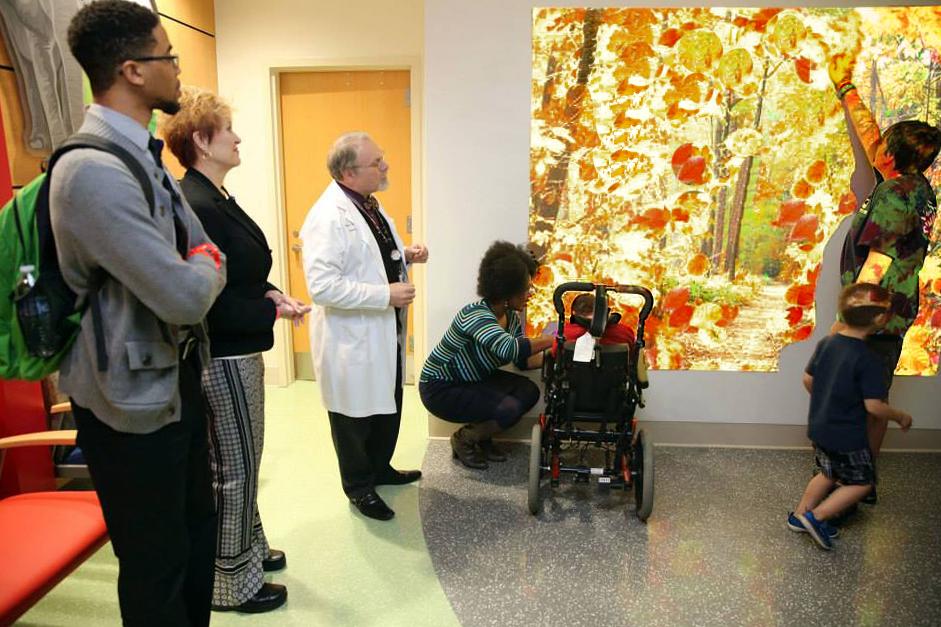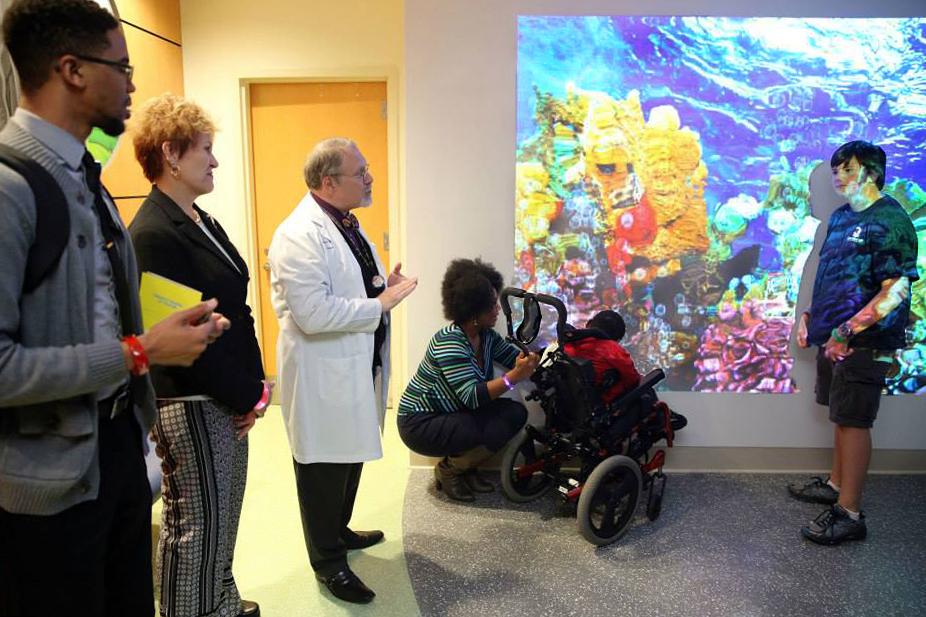 "It is a great product and the patients really enjoy it. I know it keeps their minds off the impending exams."

Chris Lehi
Senior Associate, 2KM Architects Inc.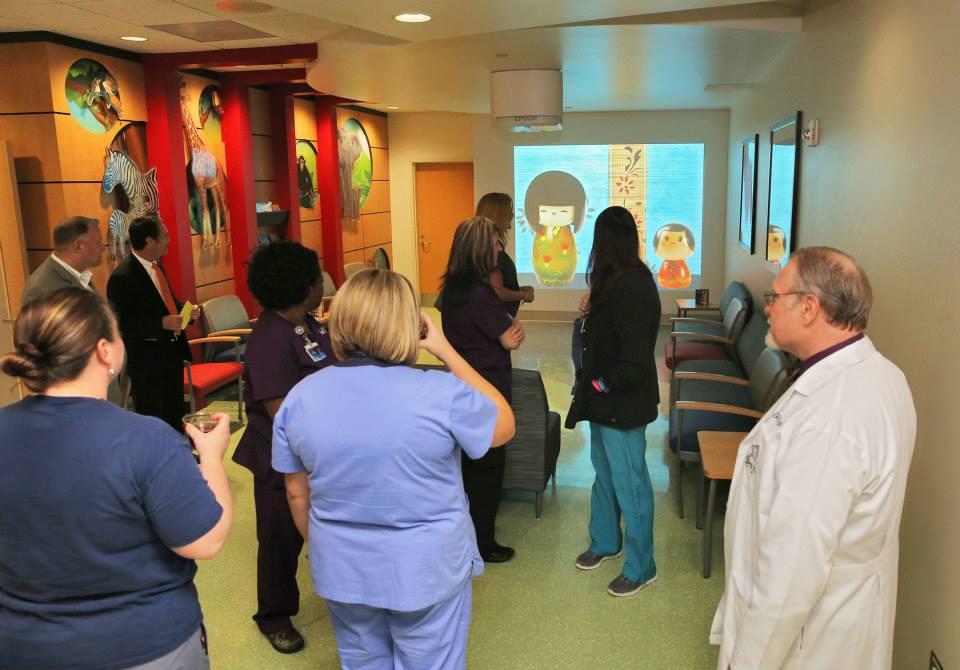 The WallFX in the main patient lounge allows children to interact with projected objects in real time, like sending colourful balloons flying in the air! As patients and siblings reach for the objects on a giant wall screen, corn kernels "pop" into popcorn, waves ripple across a puddle, bubbles float through the air, or any of about 80 scenarios are set in motion."
Denise Parrish


Health Imaging magazine
Augusta University Health has earned a Patient-Centric Imaging Award from Health Imaging magazine for its makeover of the pediatric imaging suite at the Children's Hospital of Georgia. The awards, developed in conjunction with the American College of Radiology, reinforce the importance of patient engagement in health care delivery and honor radiology groups for using imaging to improve quality and patient outcomes. CHOG was twice recognized with design awards from Modern Healthcare Magazine and the American Institute of Architects Academy.